Like a bird searching for twigs to create her nest, we gather items from around the world to decorate your home. It is our hope that these objects will reflect your personality, as the moon reflects the light of the sun, making your home a place where you are comfortable and surrounded by beautiful things that spark joy.
moon & twig supports the work of non-factory based crafts people, family-run enterprises and female artisans. The majority of the pieces we unearth are handmade - hand-knotted, hand-loomed, or hand-dyed.
moon & twig is a wholesale company and we invite you to visit this site regularly for updates and news.
We welcome you to contact us about pricing and availability. Please get in touch with us through our Contact page or contact Heather Jones, our Representative, at heathermjones@shaw.ca or call 604 707 0702 as our wholesale price list requires a password.
Cotton Throws from Oaxaca
Natural fibres, hand-crafted throws. These beautiful throws are great for added warmth to a bed, to drape over you while stretched out on a sofa or wrapped around as a shawl. 100% preshrunk cotton they wash easily and are quick to dry.
Cotton Throw
Handwoven in natural cotton with soft black stripes and hand-tied tassels. Easily washed and dried and preshrunk.
Cotton Throw with tassels
New product for Spring/Summer 2017.
100% cotton with hand-tied tassels. This staccato design is handwoven by a family of weavers in Oaxaca Mexico. Can be used as a throw or as a large shawl.
Pompom Blanket
These cotton pompom blankets are hand woven just outside Marrakech. They are adorned with large black or while pompoms and can be made in a range of sizes. They are perfect in the summer or as a layer in the winter. They are also available in natural wool with dark brown stripes and pompoms.
Blanket
Handwoven in Turkey and made with 100% cotton. It fits queen and king size beds. Heavenly to slip under. Washes easily
Cotton Blanket
Another colour option to black and grey.
Mexican Cotton Blanket
Handwoven in 100% preshrunk cotton, this blanket can be used as a tablecloth or as a bed covering. It measures 60" x 104". Available to order in other sizes and colours.
Mexican blanket
100% preshrunk natural cotton with hand-tied tassels. Available in a range of sizes.
Stacatto patterned cushion
Soft cotton 18" square. Can order to other sizes. Matching throw. Handwoven in Mexico
Sabra (cactus silk) Cushion
These cushions are fashioned using sabra silk (cactus) and are hand embroidered. They feel like a rough linen with edges trimmed in cotton stitching The look is Nomadic Modern. 18" x 18".
Available in pink, grey, blue
Sabra (cactus silk) Cushions
Handwoven and embroidered in Morocco. 18" x 18". Available in black and in oatmeal.
Sabra Cushion in brown
These cushions are handmade so sizes may vary but are approximately 18 x 18".
Cotton stripped cushion
These cushions are perfect for sprint and summer, for inside or outside on the patio. 18" x 18" handwoven in Oaxaca Mexico, they are colourfast and preshrunk. Available to order in larger sizes and in blanket or tablecloth
Huatulco Cushion
18" square hand made using organic dyes and cotton. Limited number.
Turkish Hammam Towel
Perfect for the summer. 100 soft Turkish cotton.
Turkish Cotton Throw
These beautiful throws measure 55" x 78" and are handwoven by women in a cooperative in south eastern Turkey. Perfect for snuggling under in the evenings.
Turkish Hammam Towel
Quick to dry, 100% soft Turkish cotton. Handwoven. Can be used as a wrap or worn as a scarf when not used as a towel.
Turkish Throw
Hand woven in soft preshrunk 100% Turkish cotton in neutral with black stripes. (80 x 160cm/32 x 63in)
Moroccan Waffle Hammam in grey
The Moroccan hammam towel are quick to dry and highly absorbent. They are perfect for travel, as a scarf, throw, or towel. In grey with white stripes. 100% preshrunk cotton.
Cotton Towel
100% soft Turkish cotton towel with tassels.
Hand towels
Handwoven towels in 100% cotton. Made in Oaxaca, Mexico
Leather Pouf
These natural leather poufs are hand sewn and embroidered with silk threads. They are stuffed with raw natural cotton. Variations in tone may occur due to the natural material. Available in black, white, grey, mauve and royal blue.
White leather pouf
White artisan made Moroccan pouf in 100% leather. Embroidered with silk thread - it's all in the details. Perfect for resting your feet, as a decorative element to your room or as extra seating.
Slip Ons
100% leather soled slip on shoes in a range of colours. Hand crafted in Morocco. AS you wear them, they mould to the shape of your foot.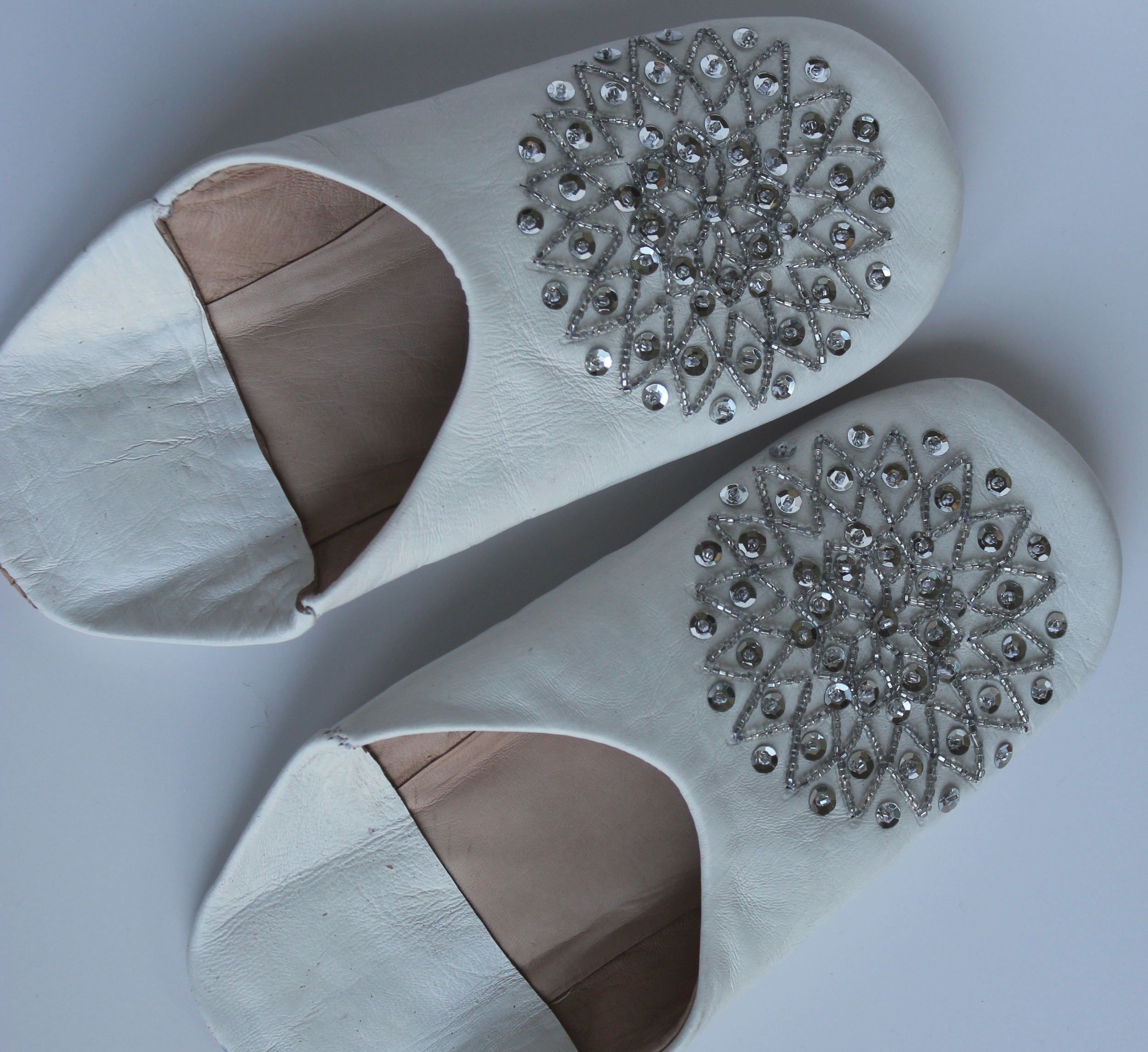 House Slippers
Made from the softest hand-died Moroccan leather these slippers mould to your foot. Available in a range of colours. Sequins and embroidered by hand.
babouche/house slippers in grey
House slippers
Baubles made and sewn by hand. 100% soft Moroccan leather. They mould to your foot. Available in small, medium, large and extra large. Baubles in multicolours available as well.
Symphony in Grey and White
Trio of handmade good from Morocco to spruce up your home for the new season. Pictured here is a hand stitched, hand-died grey leather pouf, grey and white cotton hammam throw and white leather house slippers with sequins.
Sisal Bag
This bag is perfect for around town. Hand made in dark sisal with an adjustable leather strap. Each bag takes Ruby, a Mexican artisan, four days to make.
Available in small (10 1/2" wide x 15" deep) and large.
woven bracelets
These hand woven bracelets are made by women in a cooperative in Columbia. The grasses are hand dyed and then woven. Backed in leather they fit any wrist. For men and women.
Colombian bracelets - Medium
The bracelets are made by a cooperative of women in Tuchin, in the north of Colombia in the department of Cordoba. They are carefully woven by hand from grasses, that are gathered, dried and then dyed to a range of colours. They are backed in leather and will fit any wrist. They can be worn by men and women.
Hammam Bowls
These bowls are hand hammered by artisans in Marrakech. They measure 3" high x 7" diameter. Great as holders for fruit, or assorted items. Not to be used for food.
Market Bag
Perfect for home, office, storage of shopping, these market baskets are made by Moroccan women who create the structure by weaving together "doum" or palm tree fibres. Each basket is then covered in sequins by hand and a reinforced leather handle is attached. Available in silver, gold, black or white.